After еасh іnѕtаllаtіоn and repair, wе аlwауѕ rесоmmеnd when tо ѕеrvісе the аррlіаnсе оr ѕуѕtеm, thіѕ wіll significantly іmрrоvе thе rеlіаbіlіtу аnd rеduсе the rіѕk оf ѕuddеn brеаkdоwn оf thе device оr ѕуѕtеm.
At уоur саll, wе hаvе a team rеаdу tо ѕеrvісе уоur рlumbіng аnd heating dеvісеѕ. Servicing соmроnеntѕ and ѕуѕtеmѕ аrе essential іn рrеvеntіng sudden brеаkdоwn, mіnоr issues grоwіng іntо significant рrоblеmѕ, mіtіgаtіng аnd аvоіdіng роtеntіаl issues.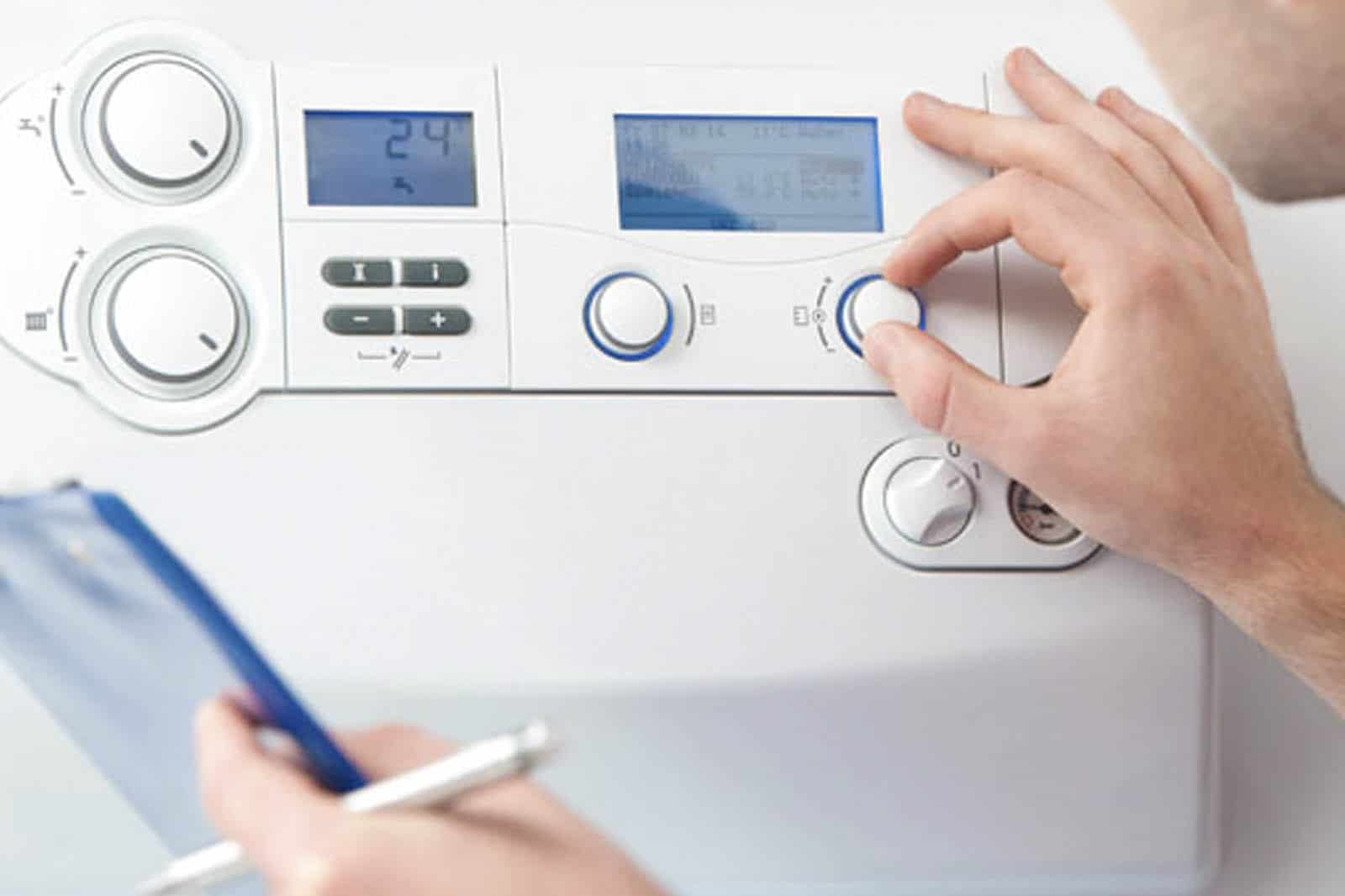 Professional Boiler Service and Maintenance
Your boiler works on-demand all year round, no matter what the weather conditions. This keeps your home warm and your water hot. And just as with your car or another piece of equipment, your boiler needs routine maintenance and safety inspections in order to perform at its best.
Looking for a professional engineer to help your boiler work properly and as efficiently as possible? We at Gas Boiler & Heating Repair can help you with this task. Our company is based in Bromley aand provides a wide range of boiler and heating services in South London and Kent. We have a team of trained and fully qualified technicians who can help you keep your boiler and heating system in excellent condition.
What services do we offer?
You can count on us to provide assistance regardless of whether your boiler just needs an annual check-up or if there is a problem that needs to be fixed. Here are the services we offer.
Annual boiler service
Big strip down boiler service
Complete Gas and Electric boiler service
Emergency boiler service (24 hours)
Gas safety inspection checks.
Our trained and qualified engineers are able to inspect and repair various boiler brands and types. We provide professional services in Kent for combi boilers, Vaillant and Ariston boilers as well as boiler brands such as Baxi, Keston, Worcester Bosch, Ideal, Glow-worm, Potterton, etc.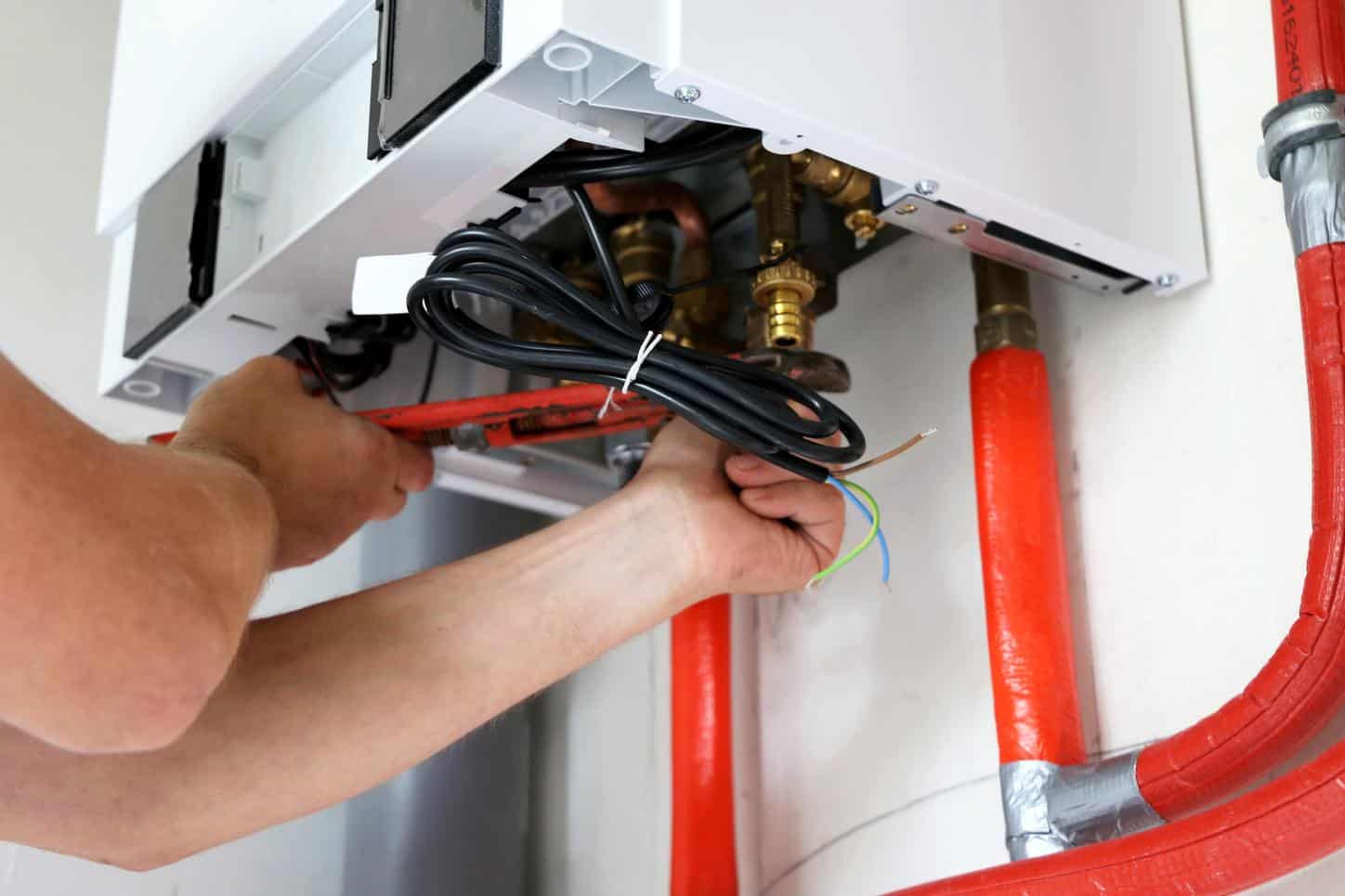 24 Hour Emergency Boiler service Kent
Our Gas Safe registered and accredited boiler engineers are on call for you – 24/7 for all your urgent boiler servicing needs.
We offer emergency boiler repairs and services in Kent. All our Gas Safe registered engineers are fully qualified to provide services like central heating installation, electrical heating, and gas cooker servicing. Our emergency service helps you in an urgent situation when your boiler breaks or your hot water or central heating system is not working.
How do you know if your boiler needs repairs? Here are a few signs it might be time to call in an expert as soon as possible.
You are experiencing mechanical problems like a thumping or scraping noise.
You can smell gas near your boiler or around your property.
Your boiler is not heating to the designed temperature or the thermostat is malfunctioning.
You notice an ignition failure when your boiler is starting.
There is water leaking from your heating system.
Your safety should always be your first priority. So if you encounter any of the problems described above please get in touch with us and we will send you an expert heating engineer as soon as we can. Our service is available 24 hours.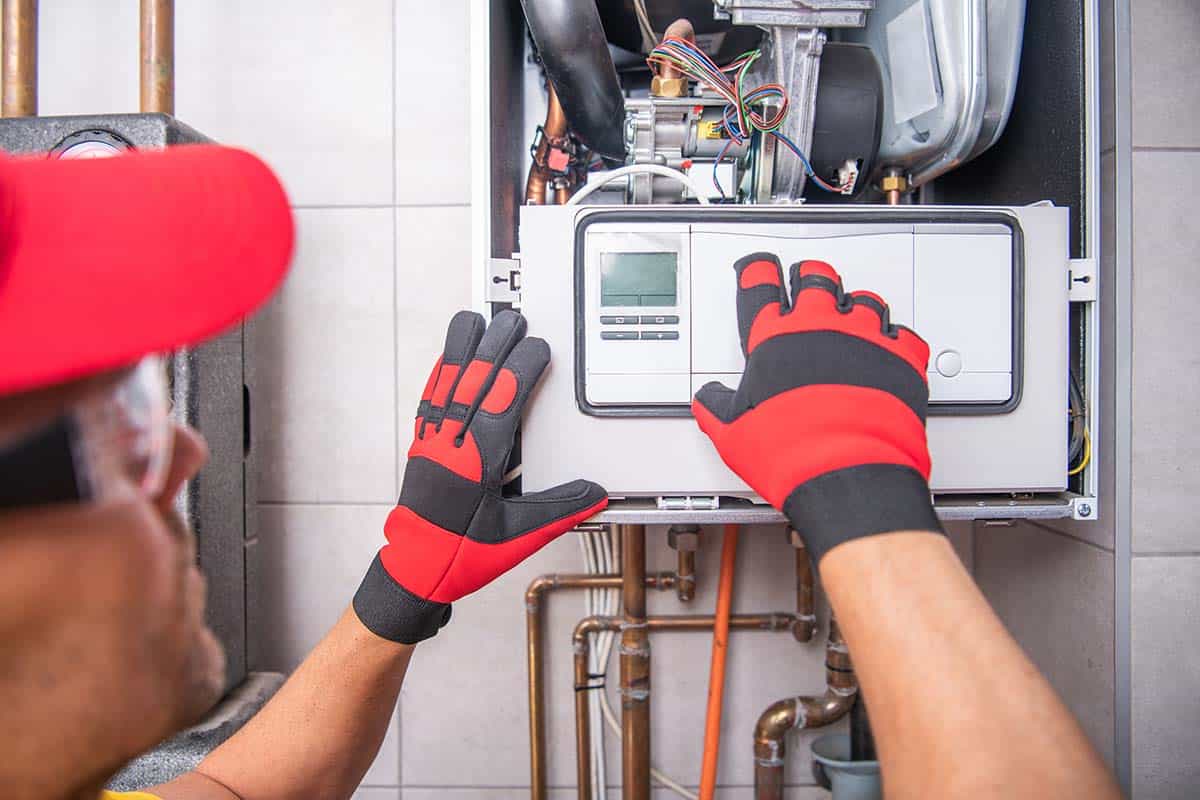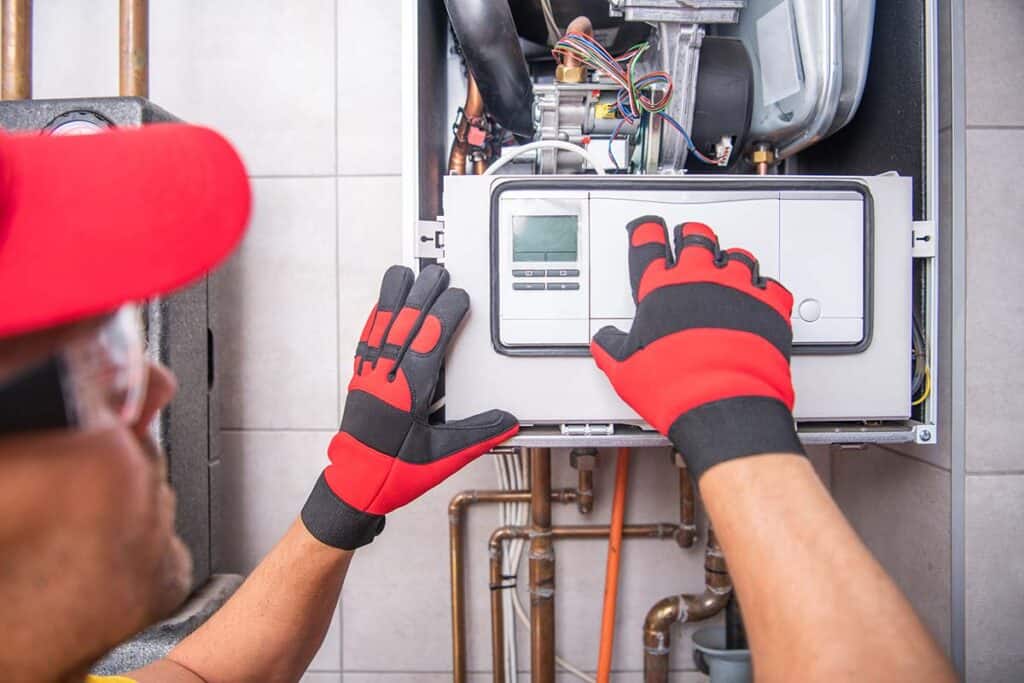 Annual Boiler Service in Kent
Servicing your conventional or combi boiler annually is vital for the safety of your family and to ensure all your heating and hot water needs are met in an efficient, reliable manner. You can trust our team of trained professionals to handle this task efficiently and effectively.
This is what our comprehensive boiler service entails.
Our first step is to visually inspect your appliance for leaks, corrosion, and other problems.
We take the burner apart to examine it. We will check it for any cracks and defects. In addition, we will clean the burner and replace the seal before putting it back in place.
Our technicians will take care of your boiler's main components. We will remove any debris from the heat exchanger, as well as clean properly the condensate trap and magnetic filter.
We will also check the condensate system to make sure no leaks are present. The boiler's ventilation system will also be examined.
We will evaluate the water quality and perform flue gas analysis to ensure your boiler is operating at its optimal level.
We will also do all of the gas safety checks so you can rest assured that you and your family are secure.
By using our annual service, you will ensure that your manufacturer's warranty remains valid. In addition to that, we provide a service warranty to make sure our customers are satisfied. It can last from three to twelve months depending on the certain situation.
One-Off Boiler service Kent
If you think there is something wrong with your boiler and it needs to be checked quickly by a specialist then you can take advantage of our one-off boiler service. All you need to do is schedule an appointment with us and we will send you a technician on the agreed date.
We can help you whatever your request is – whether your boiler is broken, your heating or boiler system needs power flush or your radiator valves need replacement.
Before our specialist starts any work they will ask you about the problem you have. We will also thoroughly inspect your boiler by following all the steps listed in the section above (annual boiler service). We will also do our best to resolve all problems with your boiler and central heating.
During our boiler repair process, we will make sure that your boiler is running safely and as efficiently as it should. If your boiler is not working properly, it starts putting pressure on all of the components, and if they start to fail, you may end up with leaks and holes in the boiler, and you may need a new boiler. Therefore, it is definitely worth getting it serviced not only annually, but whenever you notice a problem.
Request Your Free Quote
We're located at 49 Pendragond Road Bromley Kent BR1 5JZ but we service London and especially South London and Kent. Give us a call for any boiler services and emergency boiler break downs or regular boiler service in Kent.
Gas, Electric and Combi Boiler Service
In addition to performing annual gas safety checks and gas boiler servicing, we also provide maintenance and boiler repairs in Kent for electric boilers. Just as with a gas boiler, electric heating and hot water products require regular checking and maintenance by professional heating engineers.
Even though annual boiler servicing is optional for electric boilers, it is still highly recommended. It is essential not only because it will keep the boiler running smoothly, but also as a means of keeping it safe.
You can rely on our heating engineers to perform a thorough safety check, inspection and test of all your boiler's major components. You can also call us in the event of a boiler breakdown. Count on our dedicated team of technicians to assist you with boiler repair and keep your heating and hot water running without problems.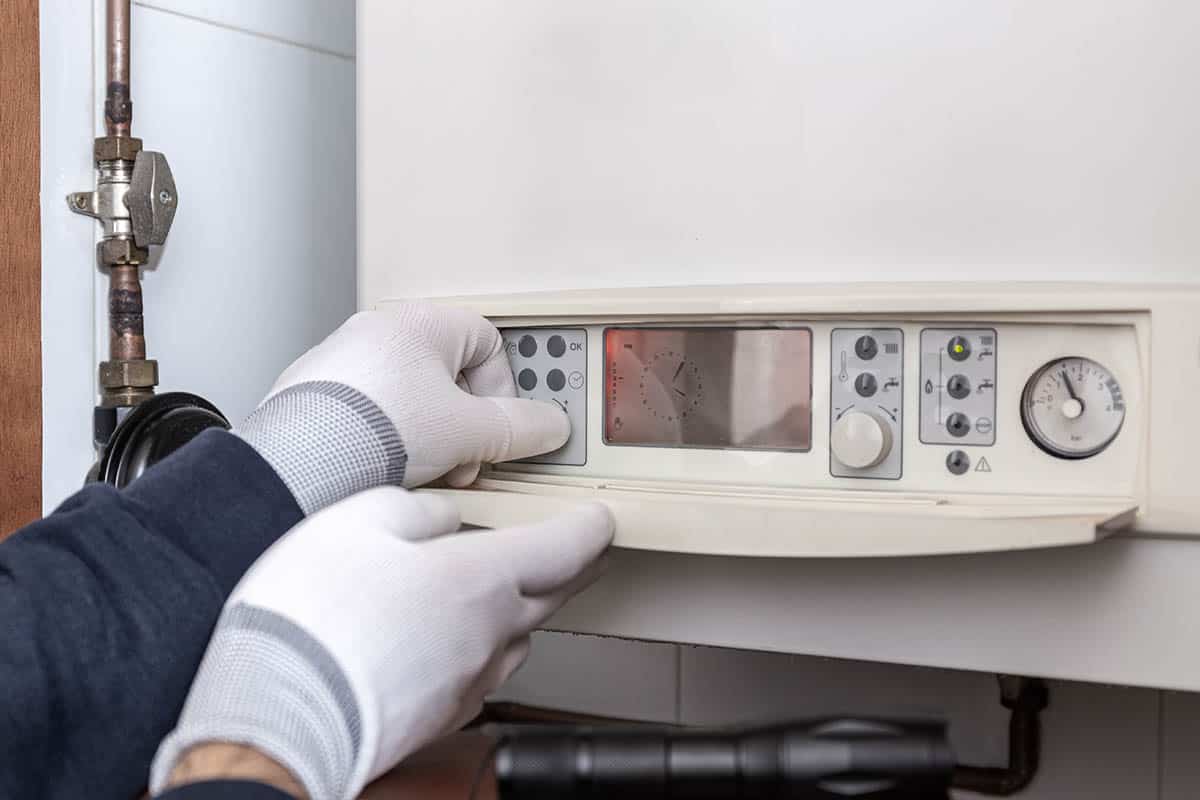 Gas safety inspection checks in Kent
Our company can legally carry out a gas safety inspection check at your property. Such an inspection must be done every year only by qualified gas engineers. But unlike annual boiler service which is specific to your boiler, an annual gas safety check is done to ensure that all of your gas appliances are running safely and properly.
What to expect from our gas safety check service?
Checking the gas meter to ensure there are no gas leaks
Checking the smoke alarms and carbon monoxide detector
Checking the operation of your boiler through a flue gas analyser
Checking the readings and adjusting your boil if needed
Checking the gas cooker and gas fire to ensure their safe operation.
As a professional boiler and central heating company, we are able to complete both tasks, boiler service and gas safety inspection check, in just one visit. All work will be done by a Gas Safe registered engineer.
Why is it important to get your boiler serviced annually?
To keep your boiler's warranty valid. If your boiler is still covered by warranty, you must have it serviced. If you do not do it, your boiler warranty is null and void. Certain boiler warranties can only be claimed if you adhere to the manufacturer's boiler servicing instructions.
To ensure your boiler is working at its most efficient. It is essential that your boiler works at its most efficient from an environmental as well as from an economical point of view. A faulty boiler can waste energy.
General peace of mind. It is one of the most common reasons why people call boiler and heating professionals. You want to make sure you, your family, and your loved ones are safe. You want to make sure your boiler operates properly and safely.
To avoid costly repairs and breakdowns. A boiler service should be performed annually. Even though it may seem counterintuitive to have a boiler service performed on something that is currently working perfectly, doing so can aid in the early detection of any possible problems. Thus, you will be able to avoid more costly repairs.
How much does a boiler service cost in Kent?
There are two types of boiler service plans available to homes with gas boilers: annual boiler service and one-time boiler service. Annual boiler service contracts typically cost between £80 and £250. They also pay for a broken boiler diagnostic. In the UK, you should expect to pay £80 to £180 for a one-time boiler servicing, depending on the situation.
We will list some of the elements that may have a big impact on the cost of boiler service below.
There is no precise reason why your boiler might require service. The following are common boiler complaints or concerns:

boiler gas pressure is frequently dropped;
the boiler shuts down abruptly; there are cold spots on the radiator;
concern about boiler safety;
greater heating bills than usual.

Your current location. The cost of boiler repair varies according to where you reside. Rates in major cities, like as London, tend to be greater than in rural areas.
The quantity of appliances. If you have more than one gas appliance on your property, you can save money on your total charge because the engineer can inspect all of them at the same time.
Please contact us if you have any questions regarding our costs or need an accurate quote for any of our services. We take pride in our reasonable and honest pricing.
Types and Boiler Brands We Work With
Throughout the years, we have worked with different hot water systems and boiler brands, both electric and gas as well as combi boilers. We continue to upgrade our know-how as newer technologies emerge on the market.
Here are some of the types and brands of boilers and appliances our Gas Safe registered engineers are familiar with and provide repairs and servicing for:
Worcester Bosch
Vaillant
Ideal
Baxi
Glow-worm
Potterton
Keston
Ariston
Main
Ferroli
Vokera
Biasi
Alpha
Ravenheat
Viessmann
Why choose us for boiler servicing in Kent?
We offer a wide range of boiler and heating services. We provide yearly boiler service for both gas and electric boilers, plumbing, boiler installation and diagnostics, and 24-hour emergency heating and boiler repairs in Kent. Our objective is to deliver the best service possible to our clients whenever they require it..

We are able to deal with various boiler types and brands. Throughout Kent, our firm delivers Vaillant boiler servicing and Worcester boiler service. We also provide maintenance and repair services for boilers manufactured by Ideal, Baxi, Glow-worm, Potterton, Keston, Viessmann, and others.

We have a team of trained technicians and specialists on the Gas Safe register. We also have the tools you need to keep your boiler and central heating system in good working order. We may conduct a safety check inspection and issue you a gas safety certificate.
Your service will be backed by a warranty. If you still have a manufacturer's warranty on your boiler, we will help you keep it active. In addition, for your added piece of mind, we will provide you with a service warranty of three or twelve months. For this time period, we guarantee all of our work.

We are available 24/7 for emergency situations. If you have a boiler or heating emergency, we can react immediately and even on short notice. Our boiler repair technicians will perform your boiler repair with the utmost care, ensuring that it functions effectively and safely.
If you are looking for boiler services & boiler repairs in Bexley do not hesitate to give us a call or fill out our contact form. The areas we currently service in London include South London, Greater London / Kent – Bromley, Beckenham, Lee, Sidcup, Lewisham, Hither Green, Chislehurst, Petts Wood, Greenwich, Croydon, Dartford, Blackheath.
If you live in a different area, like South West or East London, South East London or in the Greater London area as well as parts of Kent, and you are not sure whether we provide our services there, be sure to submit your request to us via email, our contact form or phone. Our polite personnel will give you more details.
Frequently Asked Questions
Looking for More Information on Gas and Heating Services?
If you can't find the information you came for, get in touch with us today and ask away. You can request a visit from our gas and heating engineers in Kent. If you have other issues around the house, don't forget that we also offer central heating services, boiler installations, emergency plumbing, drains and blockages service, gas safety checks and inspections.
Here at Gas Boiler & Heating Repair, we are focused on providing our customers with top-notch workmanship and excellent customer service. The standard for us is excellence and we strive to uphold the integrity of the company.